Strategies to Reduce Mobile App Development Cost for Startups in 2020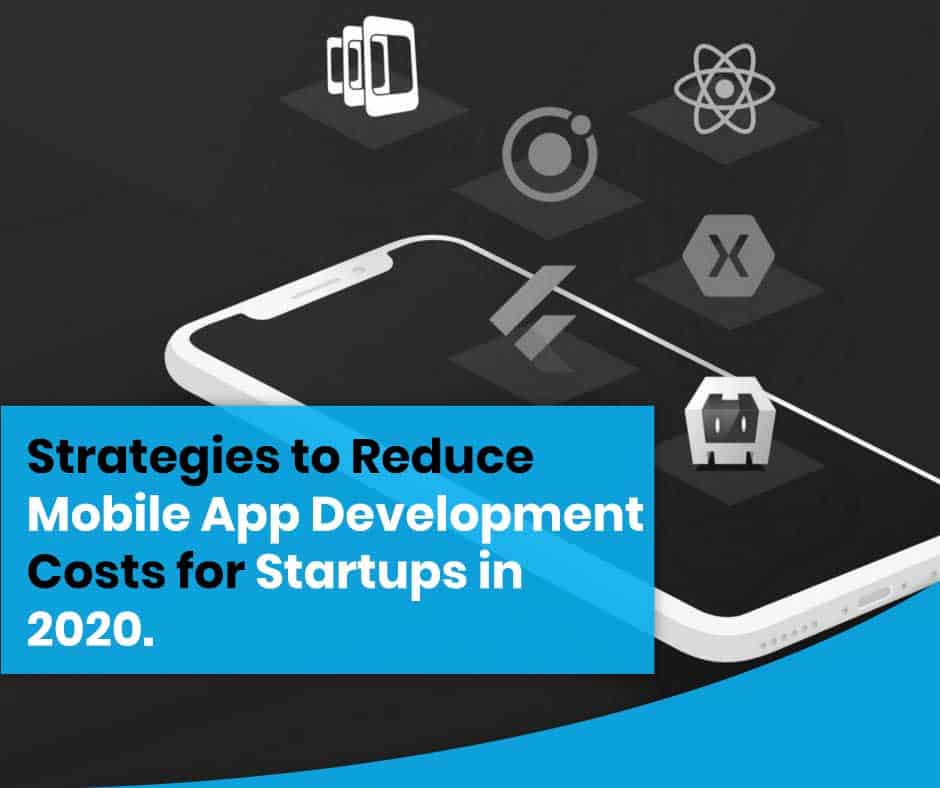 One of the most commonly asked questions in the world of mobile app development is How to reduce mobile app development costs?
There's no doubt that the world is rapidly going mobile. There's a mad race going on among businesses to outsmart one another in the market. That said, building a brand new mobile app can be an expensive affair. Especially for startups due to limited capital and resources. But that should not stop startups to join the bandwagon and reap their benefits.
We have some great strategies to help you reduce app development cost. These strategies will help you to develop your mobile development strategy.
Let's take a look at them:
Have a Minimum Viable Product (MVP)
Startup MVP development is the most effective and widely used method to develop apps at considerably cheaper costs. A Minimum Viable App is a prototype containing the designs and essential features of the app. Instead of spending dollars and time in making the app at first attempt, businesses get an MVP built and release it publicly and use it use to raise money for their app. Due to this, more and more startups are accepting MVP as the preferred method to cut mobile app development costs.
Focus on essential features
The intent behind building a business app is to make users' lives easier than ever, so they can make transactions and perform daily operations at their fingertips. But, if you're of the opinion that bombarding the app with too many features is a good idea, think again! There is no point in increasing the overall expense by adding extra features, just stay on the necessary features and functionalities for starters.
Regular troubleshooting
You are going to handle bug fixes and constant improvements even after the app is launched, so regular troubleshooting plays a vital role in mobile app development. It makes sense to hire an expert who can take care of the constant improvements and fixes. Trust me, hiring an expert team of testers will be the best investment you will ever make for your startup.
Cross-platform development
Ask any startup guru, developing a mobile app for a single platform isn't going to be the best bet for your business. Cross-platform mobile app development allows you to use a single code base across multiple platforms, thus saving you extra costs and time.
Simple UI/UX
Going for simple and elegant designs is a sure-shot way to reduce mobile app development costs. Startups don't want to confuse users with complex designs but are rather aiming for simple and minimal UI designs for clarity purposes and cutting design costs.
Use templates and open-source frameworks
Building an app from scratch isn't always the most feasible option for startups due to monetary constraints. So templates are the most convenient and the best way to reduce the cost of app development. Plus, there are free open source frameworks that enable developers to use standardized APIs, Slash the overall mobile app development costs.
Agile methodology
Agile methodology is an iterative approach allowing developers to make changes 'as and when required' as opposed to the traditional way where the product is built completely first, then tested by a team of Quality Analysts. Thus, agile methodology is both cost-effective and time-saving.
Outsourcing
Putting together a team of professionals with sound knowledge and expertise will incur high costs. Hiring resources for a single or limited project/s isn't a great idea from the money point of view. Consider outsourcing mobile app development services from a well-known service provider. It wouldn't just allow you to leverage the skills and experience of experts in a well-established team. But will also be truly cost-effective.
Ours is a leading web development and design company. We help hundreds of startups, businessmen, and entrepreneurs to take their business to the next level. Contact us at enquiry@nimapinfotech.com.
I am hopeful that these strategies will definitely help startups to slash down the mobile app development costs by a big margin.
That's all for now.